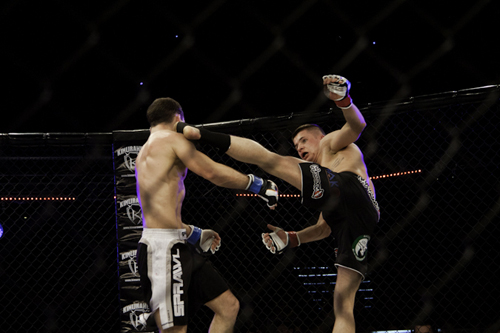 On February 23, the International MMA Tournament Cage Warriors 46 took place in Kiev, Ukraine.
The tournament is organized by promotion company "Cage Warriors" at support "Combat Sambo Promotion".


In a heavyweight headliner, Germany's Andreas Kraniotakes (13-5) reigned supreme and made quick work of Ukrainian competitor Dmitry Poberezhets (10-5-1).
Kraniotakes bloodied his opponent, forced him to the mat, and then tapped him out with a deep first-round rear-naked choke. The main-event fight was part of Cage Warriors 46, which took place tonight at the Stereo Plaza in Kiev, Ukraine. The night's main card streamed live on MMAjunkie.com following prelims on Facebook.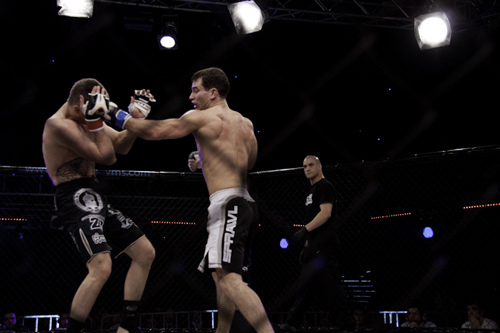 After landing some knees from the clinch, Kraniotakes forced the fight to the mat and worked from back mount. Poberezhets covered and tried to avoid positional progress, but Kraniotakes peppered him with punches and eventually secured his hooks and worked for a rear-naked choke.
A bleeding Poberezhets got to his knees, and his face quickly showed a look of desperation. After losing his mouthpiece, he was forced to tap out moments later from the deep choke. The fight - the fifth of six to end via submission on the night's main card - ended at the 3:27 mark of the first round.
"It was bloody, it was a submission, and it ended in the first round," Kraniotakes said. "What more could you ask for?"
It was a rather stress-free performance for Kraniotakes, who's now 4-1 in his past five fights.
"My corner was doing a good job of telling me the time," he said. "I realised I had some time to soften him up and did that."
Admittedly embarrassed after he failed to make weight by a half pound, Diego Gonzalez (15-6) vowed to make up for it with an impressive performance against Croatian lightweight Ivica Truscek (17-10). And the Swedish fighter did just that with a second-round submission victory.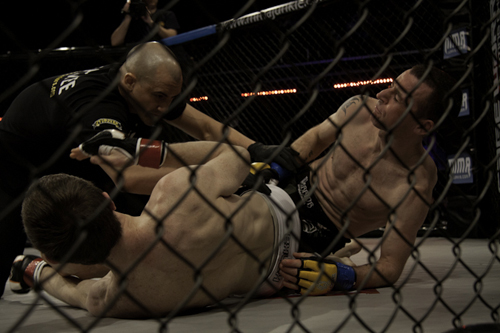 After forcing the fight to the mat in the first round, Gonzalez mixed in ground and pound with submission attempts. After Gonzalez secured a body lock from back mount and attacking the ribs with elbow strikes, though, Truscek escaped and briefly got to his feet. But once he dropped to a knee, Gonzalez threw an illegal knee at him. However, even Truscek admitted it didn't hit him, so no point was deducted, and the fight continued.
In the second round, Truscek let his hands fly. Gonzalez wobbled him with a heavy counter shot, but Truscek quickly shook it off and landed a flood of effective punches to the head and body. After nearly three minutes of eating the shots, Gonzalez shot and finally got the takedown. During a scramble, he then locked on an arm-in guillotine choke.
While Gonzalez initially didn't appear to have it locked, he readjusted and tightened the grip, which prompted the tap-out. The end came at the 3:25 mark of the second round.
"It was quick, and I wasn't quick enough," he said of Truscek's striking. "I watched some of his fights and saw he was vulnerable to the guillotine. It's my favourite submission, so I just waited for the opening." Gonzalez snaps out of a 1-3 skid with the needed victory.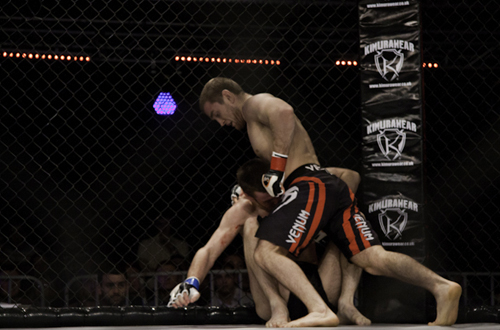 Pavel Kusch (12-2) needed just 30 seconds to tap fellow middleweight Alexander Starikov in one the night's featured attractions. After hitting the mat, Kusch isolated the arm, torqued it, and got the quick tap-out via omoplata. Kusch was hardly surprised by the speediness of the performance.
"This is my famous [move]," he said through a translator. "I like to fight on the floor, and that's my famous [move]." Kusch, a Kiev-based fighter who's fought primarily in Ukraine and Russia, is now 6-1 over his past seven fights. All of his career wins have come submission.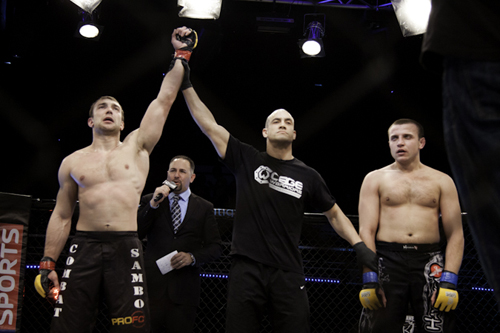 After taking a beating early in the fight, Phil Harris (20-9) rebounded and ultimately tapped out Remi Morvan(8-7). Morvan scored a takedown, took the mount position, and rained down some punches. But after a scramble, Harris briefly took top position and battered Morvan with ground and pound that noticeably slowed him. Harris then pulled his opponent into guard, slapped on a triangle choke, and added an armbar to get the tap-out.
"I'm over the moon, but he's a lot stronger than I thought," Harris said. "His jiu-jitsu is really good. He had me in trouble."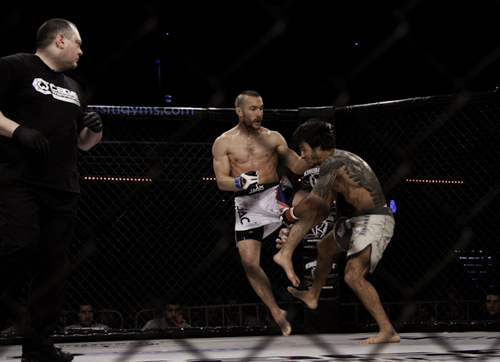 In a lopsided welterweight fight, local product Alexander Voitenko (8-3) used dominant wrestling skills and a steady stream of punches en route to a third-round TKO victory over Dan Hope (8-5). Voitenko, fighting in front of a hometown Kiev crowd, dominated the fight from the clinch and on the mat. He bloodied Hope in the first round and it never got much better for the Brit.
The stoppage came early in the third round, when Voitenko moved to the mount, trapped an arm, and rained down punches that landed flush. The ref waved off the fight after a half-dozen of the heavy blows.
In the night's opening bout, Lithuanian fighter Artemij Sitenkov (14-7) wasted little time in submitting fellow flyweight Neil Seery (9-9) with a slick first-round submission. While in the clinch against the cage, Sitenkov dipped, grabbed a leg, rolled, and forced the tap-out via kneebar. The stoppage came in just 55 seconds.
"I thought I'd win with a submission, but I wasn't planning to do that exact submission," he said. "He gave me his foot, and well, I couldn't not submit him."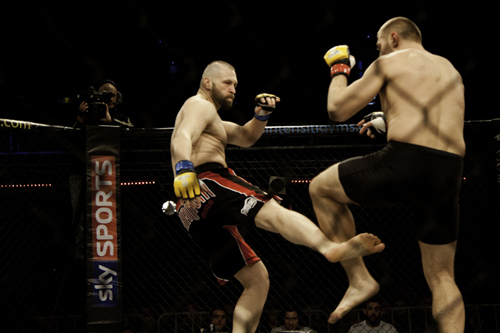 MAIN CARD
Andreas Kraniotakes def. Dmitry Poberezhets via submission (rear-naked choke) - Round 1, 3:27
Diego Gonzalez def. Ivica Truscek via submission (guillotine choke) - Round 2, 3:25
Pavel Kusch def. Alexander Starikov via submission (omoplata) - Round 1, 0:30
Phil Harris (19-9) vs. Remi Morvan (8-6) via submission (armbar) - Round 1, 4:22
Alexander Voitenko def. Dan Hope via TKO (strikes) - Round 3, 1:11
Artemij Sitenkov def. Neil Seery via submission (kneebar) - Round 1, 0:55
PRELIMINARY CARD
Vladimir Katyhin def. Anatoly Safronov via submission (rear-naked choke) - Round 2, 0:41
Sergei Churilov def. Anatoly Starodubtsev via submission (Achilles lock) - Round 1, 2:51
James Brum def. Leandro Gontijo via unanimous decision (30-25, 30-25, 30-25)
Artem Lobov def. Kamil Korycki via unanimous decision (30-27, 29-28, 29-28)
Andrei Prizyuk def. Oleg Vival by submission (rear-naked choke) - Round 2, 2:54
Sergey Grechka def. Artem Boiko via unanimous decision (30-27, 30-28, 29-28)
Maksim Ivshin defeated Valery Tighineanu by unanimous decision (30-27, 29-28, 30-28)
www.cagewarriors.com